ISP Movement Training
Experience Our Physician Directed Semi-Private Training Experience
ISP Movement focuses on bridging the gap between rehab and performance. We aim to cater to your fitness needs. For some that means you're looking for your first gym experience and we can be your "Gym Home". For others you have old nagging injuries that continually seem to flare up with training, and you need a little extra help to return you to your gym pain free. Our goal is to get you moving efficiently, and competently so you can train, live, and play confidently and pain free. Our Movement Specialists utilize a functional assessment to analyze your movement characteristics and develop an individualized program to exceed your fitness goals.
Your life requires you to be an athlete!
We offer the programs to get you moving like one!
You should have a program designed to help you thrive outside of the gym!
Our adult fitness classes are designed for you
All of our small group classes are physician directed to ensure a safe and effective training program. Your program will consist of 45 minute classes catering to 5 foundational movement patterns (squat, lunge, push, pull, and carry) in addition to metabolic conditioning and core strengthening. We will perform periodic reevaluations to measure your progress. We offer 3 membership levels that all include a functional assessment and a consult with our movement specialists to establish your goals.
Semi-Private Custom Training Programs
We offer 3 different programs to meet your fitness goals.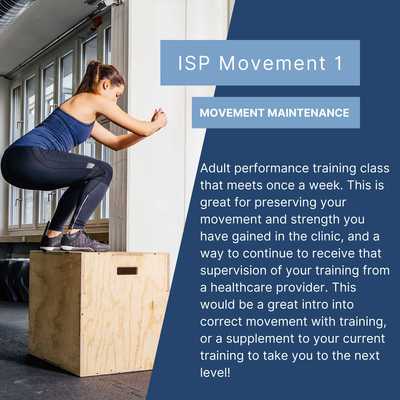 Our programs are designed to help you reach your fitness goals! Whether you are looking to train while recovering from an injury, prevent future injury, optimize your performance on the course, or just live a healthier life, we have a program for you. Every program starts with an individualized assessment designed to address your movement and current skill levels. Then we design program based on your goals, needs, and current abilities.
We help you achieve your goals with a custom program designed for any age and ability level. We focus on incorporating mobility, strength, power, agility, and endurance to develop a complete program custom to you.
You can schedule your training sessions at a time convenient to your schedule. We have various time slots available throughout the day. Each session will be conducted in our semi-private environment with 4-6 people total. Each member with be performing their own programming with modifications based on their current fitness levels and goals. This makes for a fun dynamic team-like environment. We'll reassess and advance your program every 6-8 weeks depending on how you're progressing.